Your beauty routine will never be this easy! The Konjac facial sponge cleans your face in a single step without soap!
Bamboo Charcoal: a game changer for oily and acne prone skins.
Green Tea: detoxifying and antioxidant and is intended for normal and combination skins.
Lavender: ideal for sensitive skin.
Rose Flower: works well for dry sensitive skin
Turmeric: perfect for dull skin.
How to use
Rinse the Konjac sponge with warm water until it becomes soft. Massage the skin by making circular movements. Rinse the sponge and hang it with the string to let it dry between uses.

After 2 or 3 months of use (or 100 uses), put the Konjac sponge in the compost.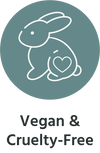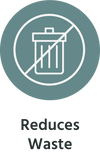 Konjac (Amorphophallus Konjac Root Extract). Water (Aqua) and Bamboo Charcoal, Green Tea, Lavender Extract, Rose Flower Extract or Turmeric based on variety.