Eucalyptus Steam® Cleansing Vapours For The Shower™
The cleansing vapors of eucalyptus, well known for deep support of respiratory health, combine with concentrated cooling peppermint for an awakening and refreshing shower.

How to use in the shower:
Place one or two rounds in the shower in the direct stream of water. As the round(s) get wet, they begin to dissolve and release potent essential oils into the hot shower steam. The patent-pending slow release technology gives you several minutes of refreshing, EUCALYPTUS STEAM® filled air.
Small Jar Contains 9-10 pieces
Large Jar Contains 38 pieces
Made in Texas 🇺🇸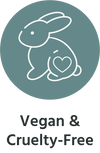 Sodium salts (proprietary blend, patent pending), natural clays, stearic acid (plant based), eucalyptus oil, peppermint oil, menthol, eucalyptol