Baby Balm Diapering Salve
Soothe, protect and moisturize after diaper changes or anywhere baby needs extra TLC. A must have for your Diaper Bag.
A zinc free blend of gentle soothing herbs infused in a certified organic olive oil and blended with fragrant Canadian beeswax. The skin soothing properties of organic calendula blossoms and organic lavender provides a natural moisture barrier and calms irritations.
Great for cloth diapering parents who don't want to compromise their diapers with zinc oxide creams (though with any diaper cream, we still recommend the use of a disposable liner).
To use: apply a layer of Baby Balm to clean, dry skin at each diaper change.
100G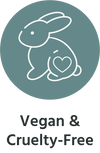 Olea Europaea Fruit Oil*, Cera Alba, Symphytum Officinale Leaf Extract*, Calendula Officinalis Flower Extract*, Althea Officinalis Root Extract*, Lavandula Angustifolia Flower Extract*, Lavandula Officinalis Oil, Tocopherol (*Certified Organic Ingredient)